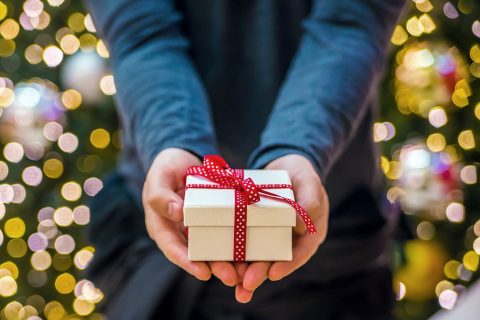 "Religion that God our Father accepts as pure and faultless is this: to look after orphans and widows in their distress and to keep oneself from being polluted by the world." James 1:27, NIV.
---
         I have a lot of great Christmas memories from when our daughter, Christina, was little. But my favorite is from the year when she was only three, and she reminded this busy mom of the true meaning of Christmas. 
            It was December 23rd and I was cleaning in a back room of our house when I realized that for a three-year-old, Christina was being much too quiet. So I walked into the kitchen and discovered why. She was standing in the pantry closet, and all around her were bags of food.
            "Christina, what are you doing?" I asked. Here I was trying to clean house, and she was making a big mess.
            "I want to give hungry people food for Christmas!" she declared. 
            Her excitement and giving spirit touched this mother's heart. It would have been so easy to let that moment pass and say, "Sweetie, I don't have time for this right now," or "I need these things for our own meals." But I knew I couldn't. Now both our hands were in the pantry as I let her choose what to give, making a mental checklist of the items I'd need to replace.
            Before bedtime on Christmas Eve, my husband drove us through neighborhoods while Christina chose which houses would get the bags of food. 
            "That house!" she said, pointing to one that looked old and run-down. 
            "That house! They have kids!" she said about another with toys in the yard. 
            So we wouldn't get caught, I ran the bags to the porches while Christina watched from the car, giggling at my dashing from car, to porch, and back.
            On the way home, we imagined how excited the people would be on Christmas morning when they found food on their doorstep. We went to bed with that warm, holiday feeling inside.
            A three year old reminded me of what really matters at Christmas. It's not just about the decorating, baking, shopping, wrapping, eating, and going to programs. It's about sharing. It's about giving. It's about passing on THE GIFT: Jesus gave to us, so we can give to others.
            What can you and your family give to others this Christmas season? Brainstorm together, and pass on the gift! 
— Pastor Nancy